Today I have the pleasure of being apart of the Breaking Waves tour! Breaking Waves is the sequel to Danielle Sibarium's Heart Waves. You might remember my review from last year
here
. For the tour I'll be doing a review of Breaking Waves!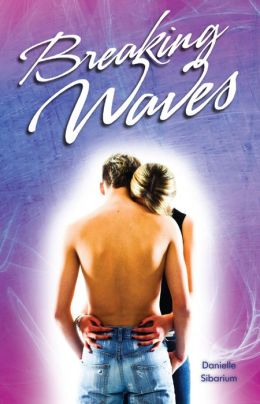 Breaking Waves by Danielle Sibarium (Heart Waves #2)
Publication Date: January 10, 2013
Publisher: KFR Communications
Book Description:
From the moment they met, Jenna knew Reece would break her heart, but she never dreamed it
would happen like this. Jenna is left shattered and broken. When life becomes too painful to deal
with and she feels completely alone, there's only one person to help her pick up the pieces and
move on. The one person she doesn't want to turn to. The one person she promised to stay away
from. Tyler.
Can Jenna put aside everything she knows about him and let Tyler help heal her broken heart?
Goodreads Link to Breaking Waves
-
Amazon Kindle
-
BN Nook
Review: Nothing but perfection should be expected from this novel after Danielle Sibarium's first book in the series, and that's what you get. All the characters and story lines have been set up, the reader already loves these characters and there relationships. After reading Heart Waves you can't help but yearn for the sequel to find out what is in store next for Jenna and Reece, and Danielle had so much planned for those two.
The twists and turns in Breaking Waves starts right off in the beginning. Event's that the reader never expects throws them for a loop. The emotion that Danielle puts into these scene's had me tearing up a few times throughout the novel. Breaking Waves is one of those novels that should have tissue warning written on the front cover. You'll want to have those close by when you start. Yet, all the best novels should have those warnings. The emotion behind the characters and they're actions is what made Breaking Waves so addicting.
Another new twist in Breaking Waves is the love triangle. Which is really hard to explain without any spoilers. The love triangle is only a partial love triangle, since you need all three characters to make a triangle. However, that 'almost' love is another quality that made Breaking Waves new and exciting to read. Personally, I'm completely torn between the two guys. I think either one would be perfect for Stephanie. I can see myself happy with either outcome.
In my opinion, the best way to categorize Breaking Waves and Heart Waves, is as an contemporary novel with a supernatural flare. Reader's who enjoy contemporary will still be able to enjoy this series. While it does have a supernatural touch to it, the characters and their relationships are the main focus. If you are a fan of supernatural novels, you will also love the series because it's so mysterious. No matter what you like, it's easy to fall in love with the world that Danielle created. This is one that you don't want to miss.
More About the Author:
Danielle Sibarium grew up as an only child of divorced parents in Brooklyn, New York. Her imagination was developed at an early age. Surrounded by stuffed animals and imaginary friends, she transported herself into a fantasy world full of magic and wonder. Books were the gateway between her play world and reality. On any given summer afternoon she became Snow White sweeping and cooking for the dwarfs, or Cinderella waiting for the prince.
Danielle always loved dialogue and in elementary school began writing plays and short stories. This is when she began to understand she could not only bring her fantastical world to life for herself, but she could enchant others as well. And so she wrote. She wrote and wrote and wrote.
Sadly the first piece she ever sent out for publication of any sort was a letter to the editor of The Home News Tribune. It was a piece thanking the first responders for their bravery and selflessness on Sept 11th. It was chosen as letter of the week.
In 2007 Danielle collaborated with Charlotte Doreen Small to write songs for her CD More. Danielle wrote the lyrics for Take My Hand, and Goodbye, while Charlotte contributed the melody. In October 2011 Danielle's debut novel For Always was released. She has since released Heart Waves and the second book in the Heart Waves series, Breaking Waves. Danielle graduated from Farleigh Dickinson University with honors, and currently lives in New Jersey with her husband and three children.
Connect with Danielle Sibarium:
Website: http://www.daniellesibarium.com/
Twitter: https://twitter.com/Sibarium
Goodreads page: http://www.goodreads.com/Daniellesibarium
Heart Waves Facebook: http://www.facebook.com/heartwavesbook
You can follow the rest of the Breaking Waves Tour
Here
!