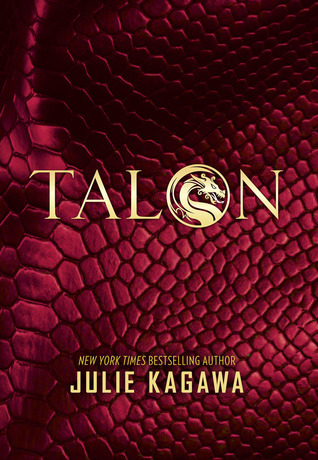 Title: Talon
By: Julie Kagawa
Source: ARC from publisher
Release Date: October 28th, 2014

Summary: In Julie Kagawa's groundbreaking modern fantasy series, dragons walk among us in human form.
Lo
ng ago, dragons were hunted to near extinction by the Order of St. George, a legendary society of dragon slayers. Hiding in human form and growing their numbers in secret, the dragons of Talon have become strong and cunning, and they're positioned to take over the world with humans none the wiser.
Ember and Dante Hill are the only sister and brother known to dragonkind. Trained to infiltrate society, Ember wants to live the teen experience and enjoy a summer of freedom before taking her destined place in Talon. But destiny is a matter of perspective, and a rogue dragon will soon challenge everything Ember has been taught. As Ember struggles to accept her future, she and her brother are hunted by the Order of St. George.
Soldier Garret Xavier Sebastian has a mission to seek and destroy all dragons, and Talon's newest recruits in particular. But he cannot kill unless he is certain he has found his prey—and nothing is certain about Ember Hill. Faced with Ember's bravery, confidence and all-too-human desires, Garret begins to question everything that the Order has ingrained in him—and what he might be willing to give up to find the truth about dragons.
I grabbed this book at BookCon back in May. It was at the top of my list of books to find while I was there. When I read the overview (provided above) online, I felt an intense need to own this book. I was even more enthralled when I finally picked it up, because the cover is, in my opinion, very eye-catching with its bright red background.
But this book isn't only nice to look at. I've always wanted to read a book about dragons, and here it is. I'm sure many of you have readEragon, and while I haven't gotten around to finishing that one, I was more than happy enough to have Talon.
Ember Hill. What can I say about this wonderfully rebellious girl? She constantly questions authority and basically does whatever she wants. And I love her for it. She's independent and makes her own decisions and while sometimes it might harm other people, she is truly a survivor. I can't wait to see what she does in the series' next installment, because this girl is a badass with a capital B. Even when she's making horrible choices, I still love her.
Then there's Garrett. Stone cold, perfect soldier, kind and caring Garrett. I never knew what to expect from him, but in the end, I was satisfied. That's all I'm going to tell you!
I definitely laughed out loud a few times while reading this book. I think that was my favorite thing about it. It was just so… human. For a story about dragons, anyway ;)
-Alyssa