If you read my review of Wait For You yesterday then you know I found it on a New Adult book sampler. I thought I should share that sampler with you.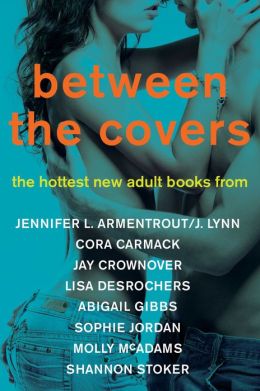 Summary from BN:

Presenting

Between the Covers

, a free eBook sampler from the hottest New Adult books by the most popular authors in this emerging genre. This free eBook sampler is a curated volume of excerpts from new and upcoming titles from

New York Times

and

USA Today

bestselling authors including

Wait for You

by J. Lynn (Jennifer L. Armentrout); three books by Cora Carmack:

Losing It,

Faking It

and

Finding It

;

Dark Heroine

by Abigail Gibbs;

Foreplay

by Sophie Jordan; three books by Molly McAdams:

Taking Chances

,

From Ashes

and

Forgiving Lies

;

and

The Registry

by Shannon Stoker.
This sampler can be found on bn.com and amazon.com for free! I loved this because it gives you the first few chapters of these new novels so you can decide if you want to buy them. So far I've read the samplers for J.Lnn, Cara Carmack and Jay Crownover. All of them have been great and now I have a list of books to read!
I've already read J. Lynn's novel and the first novel by Cara Carmack (review up soon). I have yet to be disappointed. I read love the New Adult genre because they are about characters that are my age. If you have any to suggest let me know! I would love to read some more New Adult novels. :)