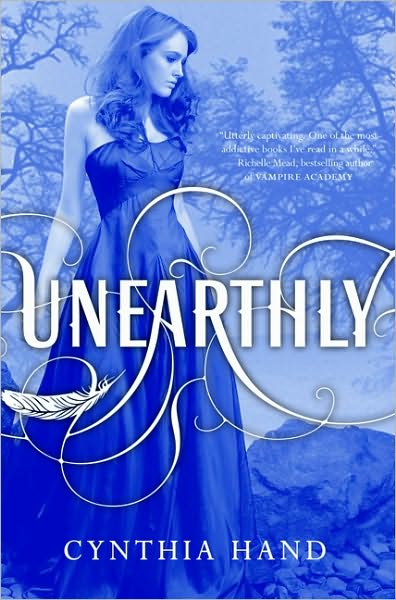 Unearthly
By: Cynthia Hand
Publisher: HarperTeen
Release Date: January 4, 2011 (Today!!)
When I first picked up Unearthly I didn't know much about it. I was expecting it to be something like the angel books, Fallen and Hush, Hush. Both were very good but took a darker side to the angel stories. To my surprise Unearthly was nothing like them. The main character Clara is actually an angel herself, well part angel.
In the world Unearthly is set in and angel gets a vision of their purpose on earth in bits and pieces. When Clara starts getting her visions, about a boy in a fire that she thinks is her purpose to save. Her whole family (Clara, her mom and brother) moves to Wyoming, where the fire takes place.
There she meets Christian, the boy she's supposed to save from the fire and starts to slowly fall for him. Then there is also Tuck (of course isn't there always a love triangle in YA) he is Clara's best friend's twin. One of the great things about Unearthly was how the love triangle kept me on my toes and flipping the pages. I even flipped flopped which guy I liked better a few times (and I almost never do that). In the long run this love triangle becomes one of the biggest decisions Clara has to make, and it's not about who she's in love with.
From the very first chapter of Unearthly I was hooked. In the beginning Clara's visions that sprung up spontaneously throughout the novel kept me guessing and reading but then I got attached to the story and characters. The plot will always have you guessing, just when you think you figures something out Cynthia Hand would throw something unexpected at you.
This is a great start for 2011 that looks like a great year for YA novels. You definitely don't want to miss this one. Then when you're finished you can pine for the sequel, because the ending will leave you begging for more.
--Danielle
Look at the beautiful cover!!!!!!!! I
love love love love love love
it.