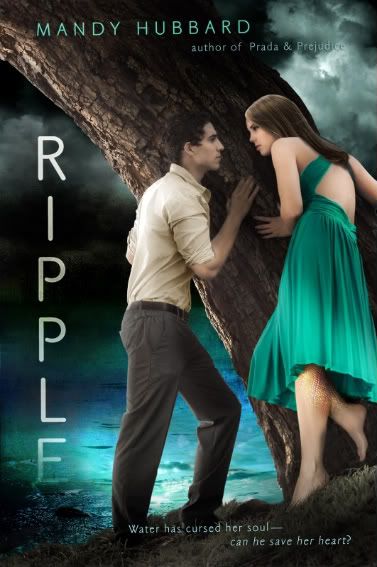 Waiting On Wednesday that spotlights upcoming releases that we're eagerly anticipating was created by Jill over at Breaking The Spine.
Ripple by Mandy Hubbard July 21st 2011
Eighteen year old Lexi Wentworth is cursed. For as long as she can remember, she's spent every night swimming. If she doesn't, she'll regret it—simply walking will be agony, as if she's stepping on shattered glass. Her body craves the water, demands the water, until she can't say no.



But it's not the swimming that troubles Lexi. It's the singing that goes with it.When she turned sixteen, her siren song killed the only boy she's ever loved. Now, she avoids the popular shores of the Pacific in favor of a long forgotten lake up in the mountains, where she can swim and sing in peace, far from the population of her oceanside home.


Until, that is, Cole Mills discovers her lake. He's new to Lincoln City High, and he doesn't know about Lexi's reputation as an ice queen—a reputation she's carefully cultivated to keep everyone around her safe. He pushes her, talks to her, forces her to dream of what life could be like if she weren't a siren.


Lexi can't stop herself from warming to him, from falling for him. Soon, he's demanding answers, following her to the lake, unknowingly risking his life. How can she keep him safe when the one thing she wants most--to hold him close-- will endanger his life?
I finished You Wish a couple days ago and I'm writing up my review now. I really enjoyed it and Rippled sounds very different. It also sounds REALLY good! I can't wait to read this one. :)
I also have a four day weekend right now, and then my school days will be normal. So posts should start being consistent again.
--Danielle