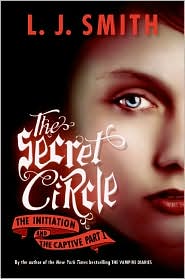 I'm sure you've heard of the TV show Vampire Diaries. It's one of my favorite TV shows, and it's on The CW. If you haven't it's a show based on the books of the same name by L.J. Smith. A girl falls in love with a vampire but the twist is she looks just like the vampires love interest from the 19 hundreds. And the vampire's brother also falls for the girl. Crazy story line right?
Well I love that show but I haven't read the books, but I have read other L.J. Smith novels. Like Night World, Dark Visions, and The Secret Circle.
Now The CW is making The Secret Circle into a TV show, just like Vampire Diaries. I know they are probably going to change almost everything like Vampire Dairies but I'm still very excited to watch it. Then best part? It's on after Vampire Dairies on Thursday's this fall.
This books are amazing and I highly recommend reading it even if you're not going to watch the show.
http://youtu.be/EWK0vfwYhqA &lt
;--- YouTube won't let me add the video but this is the link to the trailer for the show. Doesn't it look so good?
Are you excited for this show?