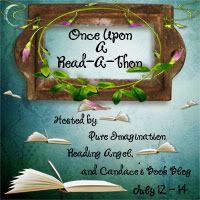 So I'm doing the Challenge hosted by
http://theeagerreaders.blogspot.com/
for the Read-a-Thon
"Mini Challenge Part 1: Post about your favorite fictional couple"
It's really hard to choose my favorite couples, because there are so many that I like. Here's just a few of them.
1) Clary and Jace from The Mortal Instruments. They always just seemed perfect for each other and they had to over come some insane obstacles to get there. (Plus this is my favorite series)
2) Hunter and Morgan from the Sweep series.
3) Zack and Cammie from the Gallagher Girls Series.
4) Emma and Eadric from The Frog Princess Series (This was the first YA romance book that I read, so I think I'll always love this couple and these books)