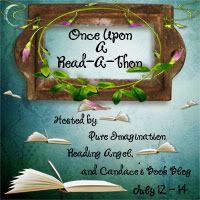 The Read-a-thon is hosted by
Pure Imagination, Candace's Book Blog, and Reading Angel.
(the link is to the sign-ups at pure Imagination)
I'm signing up for this really late (it starts tomorrow) but I really need to get through my TBR list. So I thought what the heck, it looks fun. I'm still not entirely sure what I have to do besides read. Do I post about each book as I finish them, or updates on how many books I've read. Well I guess I'll figure it out.
Anyway these are the books that I'm hoping to read.
And I have these on hold at the library that I'm also going to pick up tomorrow so I'm going to try and read them too.
I can read really fast but there's no way I'll be able to finish all of these. Which ones should I read first?