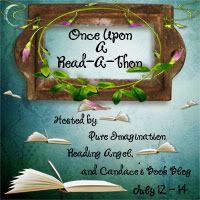 This has been so much fun, but I only read three books. It was hard to find time to read.
So here's the three books that I finished:
1)Hex Hall by Rachel Hawkins
2)Inside Out by Maria V. Snyder
3)My Soul to Keep by Rachel Vincent
and I also started Captivate by Carrie Jones.
All of them were really good, but my favorite would have to be Inside Out. I'll try and post a review really soon.
I know my currently reading thing in the sidebar didn't change at all throughout the read-a-thon, I actually forgot about it ...
So did you read anything this really good during the read-a-thon? Tell me in the comments!