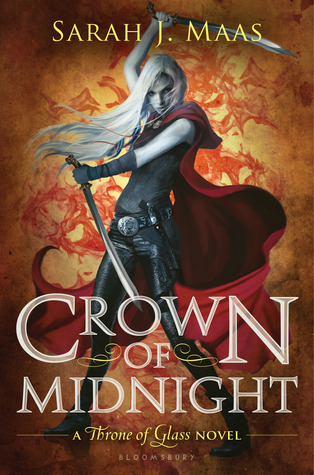 Throne of Glass
By: Sarah J. Maas
Publication Date: August 27, 2013
Copy: Bought
Summary
:
"A line that should never be crossed is about to be breached.It puts this entire castle in jeopardy—and the life of your friend."
From the throne of glass rules a king with a fist of iron and a soul black as pitch. Assassin Celaena Sardothien won a brutal contest to become his Champion. Yet Celaena is far from loyal to the crown. She hides her secret vigilantly; she knows that the man she serves is bent on evil.
Keeping up the deadly charade becomes increasingly difficult when Celaena realizes she is not the only one seeking justice. As she tries to untangle the mysteries buried deep within the glass castle, her closest relationships suffer. It seems no one is above questioning her allegiances—not the Crown Prince Dorian; not Chaol, the Captain of the Guard; not even her best friend, Nehemia, a foreign princess with a rebel heart.
Then one terrible night, the secrets they have all been keeping lead to an unspeakable tragedy. As Celaena's world shatters, she will be forced to give up the very thing most precious to her and decide once and for all where her true loyalties lie...and whom she is ultimately willing to fight for.
Review:
After reading Throne of Glass, I was not expecting Crown of Midnight to blow me away like it did. Throne of Glass was not bad but it didn't keep my attention like Crown of Midnight did. Now that the world has been explained and Celaena has won the competition, the book gets right into the action, and Sarah J. Maas is the queen of action scenes. They are intense to read but I love every second of it.
It's easy to see how much the main character Celaena changed from the first book to the second. The first book concentrates on how she's the best assassin and can kill anyone while still looking attractive. In Crown of Midnight Celaena doesn't concentrate so much on looks, but what she is doing and why. She turned into the bad-ass main character that everyone is always talking about
I think I secretly love, love triangles especially this one. While I'm 100 percent Team Chaol, I still like Dorian. The triangle played out really well in this book. Yet the book was more centered on what was going on in the castle. I really thought the four main characters were going to pair off but now I have no idea what is going to happen.
After reading Throne of Glass I wasn't completely sure if I was going to continue the story but I'm so glad I did. Crown of Midnight completely changed how I look at this series. It had so many twist and turns. I really didn't expect anything that happened (besides the last big reveal). I highly recommend reading the first book now just to get to this one. I can't wait to see what happens to Celaena, Dorian and Chaol next.