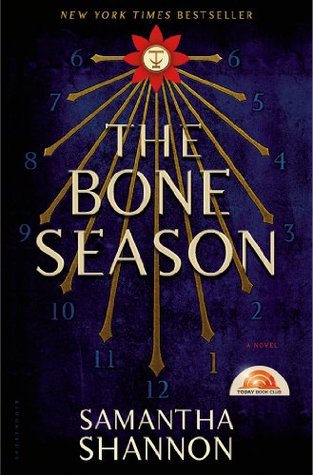 Bone Season
By: Samantha Shannon
Received: at BEA (a finished copy for review)
Summary: EVEN A DREAMER CAN START A REVOLUTION . . .
Nineteen-year-old Paige Mahoney works in the criminal underworld of Scion London. Her job is to scout for information by breaking into people's minds. For Paige is a dreamwalker, a clairvoyant and, in the world of Scion, she commits treason simply by breathing…
My first impression of The Bone Season was that it was a slow moving story. I had to force myself to read it for the first few chapters (probably because I kept getting distracted by the world around me) but once I actually starting focusing on it, all I wanted was to find out more. What is Paige? What is this world she lives in?

Unlike some other dystopian novels I've read, Samantha Shannon did a great job of describing the London of her imagination. I enjoyed learning about the characters and dynamics Shannon created. At the end of the book, I couldn't wait for the next book! Actually, I'm still waiting since it hasn't been published yet, but I can't find enough patience in me to properly cope with the longing I feel.

Relationships are spun between characters at unexpected moments, and although romance is definitely not the forefront of this story, it is certainly a welcome addition. Anyone who knows me knows I'm a sucker for romances in any form, so the surprise was a happy one.
All in all, I really liked the book. I actually recommended it to a friend just a minute before I started typing this review! Anyone who enjoys dystopian/sci fi novels will find The Bone Season to be a good read.
The sequel The Mime Order comes out on October 21st!

That's all I have for this week! Thanks for reading :)
--Alyssa