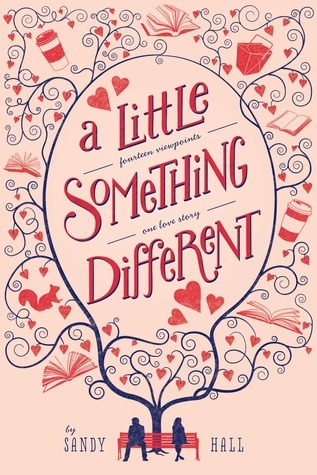 Title: A Little Something Different
Author: Sandy Hall


Publisher: Swoon Reads
Release Date: August 26, 2014
Source: ARC from BEA
Summary: The creative writing teacher, the delivery guy, the local Starbucks baristas, his best friend, her roommate, and the squirrel in the park all have one thing in common—they believe that Gabe and Lea should get together. Lea and Gabe are in the same creative writing class. They get the same pop culture references, order the same Chinese food, and hang out in the same places. Unfortunately, Lea is reserved, Gabe has issues, and despite their initial mutual crush, it looks like they are never going to work things out. But somehow even when nothing is going on, something is happening between them, and

everyone

can see it. Their creative writing teacher pushes them together. The baristas at Starbucks watch their relationship like a TV show. Their bus driver tells his wife about them. The waitress at the diner automatically seats them together. Even the squirrel who lives on the college green believes in their relationship.

Surely Gabe and Lea will figure out that they are meant to be together....
Review:

Everyone is always looking for something new and something different. This title does not lie, this book is 100 percent "A Little Something Different", except it isn't just a "little". I have never read anything like Sandy Hall's debut novel. It took me by surprised and I loved every second of it.
A Little Something Different takes place over 14 different perspectives surrounding Gabe and Lea. When I first heard about that I thought this book would be distant and hard to connect to, but it wasn't. It was really easy to care about Gabe and Lea and want them to be together. I was still able to get completely immersed into the novel. The different perspectives just made it new and different. My favorite one has to be the Bench, you'll just have to read it to see what I mean by that.
There's also a secret surrounding the novel and the main character Gabe. Something seems to be off about him at first and the author hints at his past. While reading I was dying to figure out what it was. It adds an air of mystery and kept me addicted and reading.
If you are looking for a book that is something new and different I highly recommend, "A Little Something Different". It's a perfect beach read as the summer comes to a close or something to brighten up your winter. It is also filled with lines that reference Buffy the Vampire Slayer, Means Girls and possibly Gilmore Girls. Basically, go and preorder this one. Right now!