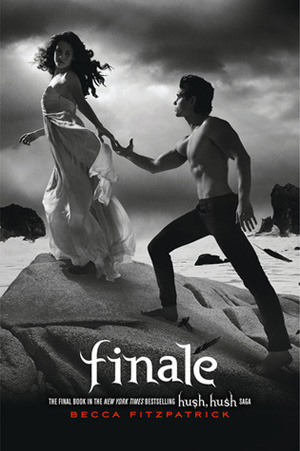 Finale (Hush, Hush saga book 4) By: Becca Fitzpatrick Source: Bought
Goodreads Summary:
"Will love conquer all?
Nora and Patch thought their troubles were behind them. Hank is gone and they should be able to put his ugly vendetta to rest. But in Hank's absence, Nora has become the unwitting head of the Nephilim and must finish what Hank began. Which ultimately means destroying the fallen angels - destroying Patch.
Nora will never let that happen, so she and Patch make a plan: lead everyone to believe they have broken up, and work the system from the inside. Nora will convince the Nephilim that they are making a mistake in fighting the fallen angels, and Patch will find out everything he can from the opposing side. They will end this war before it can even begin.
But the best-laid plans often go awry. Nora is put through the paces in her new role and finds herself drawn to an addictive power she never anticipated.
As the battle lines are drawn, Nora and Patch must confront the differences that have always been between them and either choose to ignore them or let them destroy the love they have always fought for."
My first reaction is that this book was a million times more fantastic than I thought it would be. I really liked the first three books in the series, but I was so impressed by the series' conclusion. The twists and turns in the plot were exciting and horrifying at the same time. Just when I thought I knew what was going to happen, I was thrown a curveball. I went through so much right alongside Nora during the whole story, and I couldn't have asked for a better outcome.
I'm a sucker for paranormal romances, so if you are as well, and you've read the first three Hush, Hush novels, this book is definitely for you. My attachment to each of the characters grew exponentially from the beginning, and I found myself smiling whenever anything good happened to my favorite characters. Actually I smiled when bad things happened to characters I hated so basically I just smiled a lot.
I also cried multiple times… there was a 30 page section where every other line I was just jolted by the events taking place and the action was insanity. My family members asked me if I was okay because I was so distraught at some points. Every time I think of some of the things that happened, I can feel the tears just sitting behind my eyes ready to spring. But since no one in my house understands being sad over "fictional characters" (they're real to us, Mom, leave me alone), I must hold back my tears and stay strong!
There really were so many surprises (at least I thought so) and I was pleasantly surprised at how well everything was explained/came together in the end. I pretty much got everything I wanted in the conclusion to this fun yet intense and fantastical series. Remember that saying, "expect the unexpected"? That's what I should have done… except you can't really expect what you don't expect… so… it wouldn't have worked anyway….
I honestly believe that even if you aren't hooked at the beginning of the series, you should stick around and trudge on until the end. I definitely enjoyed all of the books in the series but frustration may cause you to quit. DO NOT GIVE IN.
Finale
is definitely worth it, and is now one of my favorite books. And I'm in love with Patch Cipriano. So. There's that.
Hope you enjoyed my first review!! I'd love to know if there's anything I could do better, or change about the way I'm writing. This is just the beginning and I'm still getting a feel of how to do this so we shall see where I go from here!
Marissa will be here next week to do her first review, so I'll be back in two weeks! Thanks for reading :)
--Alyssa