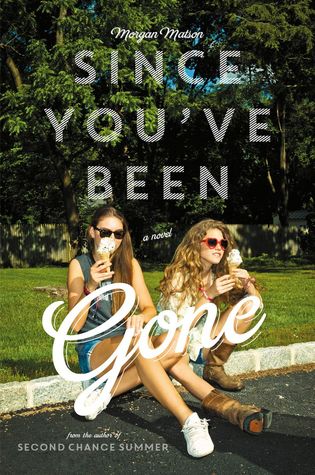 Since You've Been Gone
By: Morgan Matson
Source: Received copy at BEA
Summary:
The Pre-Sloane Emily didn't go to parties, she barely talked to guys, she didn't do anything crazy. Enter Sloane, social tornado and the best kind of best friend—the one who yanks you out of your shell.But right before what should have been an epic summer, Sloane just... disappears. No note. No calls. No texts. No Sloane. There's just a random to-do list. On it, thirteen Sloane-selected-definitely-bizarre-tasks that Emily would never try... unless they could lead back to her best friend. Apple Picking at Night? Ok, easy enough. Dance until Dawn? Sure. Why not? Kiss a Stranger? Wait... what?

Getting through Sloane's list would mean a lot of firsts. But Emily has this whole unexpected summer ahead of her, and the help of Frank Porter (totally unexpected) to check things off. Who knows what she'll find?

Go Skinny Dipping? Um...
Review:
Morgan Matson just keeps getting better and better. She writes adorable yet meaningful contemporary novels. Since You've Been Gone is her third book, and I can't wait to anything else that she writes. This one was a perfect beach read for the summer. From the eye catching cover to the completely new and different story everything about this book was perfect.
First lets start with the cover. It really grabs your attention. The bright summer colors, ice cream cones and even more pictures under the jacket. I usually don't talk about covers but this one was just so perfect for the book.
Underneath that perfect cover holds a fun and enjoyable read. I loved every second of this book from the beginning where Emily didn't know what to do without Sloane till the end where the characters grew, learned their lessons and ends with a nice bow as most summer contemporaries do. Emily, the main character, doesn't know what to do without Sloane. She has an awkward vibe that was very relatable. Yet as she checks things off Sloane's list she learns how to be her own person and makes some great friends in the process. Those friends, the supporting characters, were also engaging to read about. All together they made this story so enjoyable.
If you're looking for a summer contemporary to read at the beach , or just looking for a great story to brighten your mood, I highly recommend Since You've Been Gone.
--Danielle